Every day I've been waking up this past week, Bitcoin has done something like hitting all time high prices one after another. In fact, it's gone up by 30% in £ value in the last 7 days alone according to CoinGecko which is unreal in itself! Institutions are really loading up and adding Bitcoin to their balance sheet or as another asset to their offerings with companies such as Grayscale and Microstrategy aggressively pushing it on their Twitter feeds.
In an interview I saw of Michael Saylor (CEO of Microstrategy), he didn't want to watch the value/purchasing power of the company's substantial cash holdings erode in front of their eyes due to endless fiat money printing. Add to that PayPal are looking to have enough in their own reserves when they launch crypto payment systems in 2021 and suddenly, the last 6 months of 2020 caused an explosion in fiat price of Bitcoin!
But where's the mainstream media coverage been in this time other than maybe one or two articles shunning Bitcoin in the Financial Times?
Google Search Trends
Below is a chart of Google searches for "bitcoin" over the last 5 years. You can see the big spike at the end of 2017 where media were all over BTC at that time. I certainly remember hearing about only horror stories on these outlets as people fell privy to scams, used credit cards to buy BTC with (WHYYYYYYY?!!) and did their utmost best to put people off. It seemed to work as interest quickly evaporated, along with people's portfolios in 2018.
Mumbles incoherently.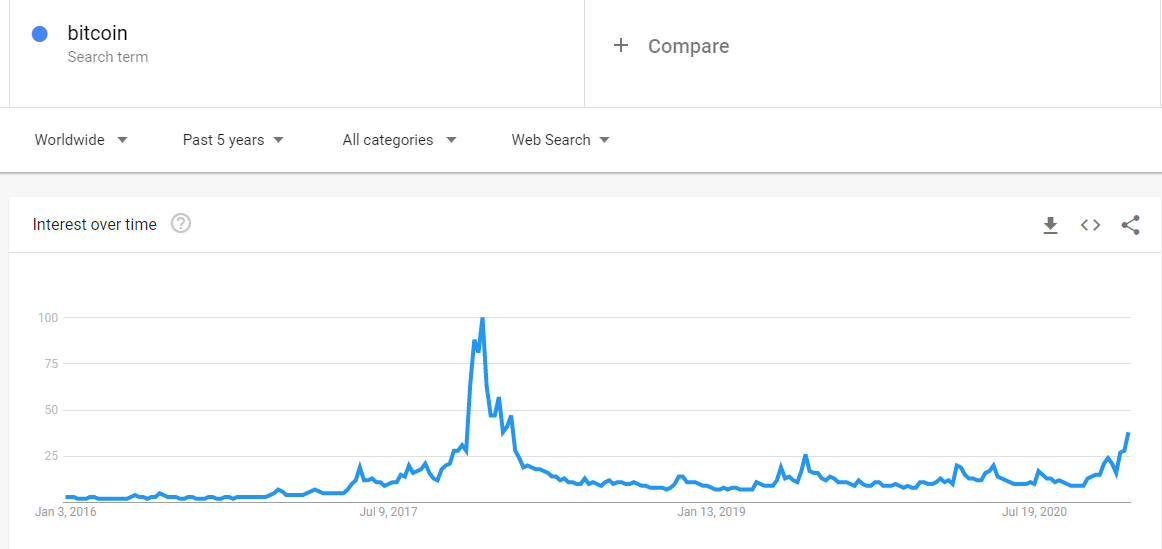 2 Articles
Fast forward 3 years to the beginning of 2021 and here we are, Bitcoin is 25% above it's previous all time high and we're only seeing a very small increase now in that little uptick at the end of the Google Searches chart above.
OK, in the UK we have Brexit and coronavirus dominating the mainstream news in 2020 but in the last day or two BBC just reported BTC breaching £22,000 as did Sky News, citing:
In the past year Bitcoin has almost quadrupled in value thanks to interest from large investors looking for rapid profits

…the cryptocurrency has also proved to be a volatile investment…
Both articles feature quotes from current Bank of England governor Andrew Bailey saying he is "very nervous about people using Bitcoin to make payments" and that he warns people to be "prepared to lose all their money". Adding to this, the Financial Conduct Authority (FCA), which regulates the financial sector in the UK, have now banned the financial derivatives market, where financial products based on the price of Bitcoin and other crypto.
Ah, so is there any positive wording? Well, it's slim pickings with an emphasis on "gambling" so I'll let you make your own mind up with that! So far, these are the only two articles I've seen but the saying "actions speak louder than words" always comes to mind and I look at what companies are actually doing like the ones I mentioned earlier on.
In that Sky News article (published on 2nd Jan 2021), they also shared a video interview with Mark Carney, who stepped down as Bank of England governor in March 2020 which is kind of "old news" (at least 10 months old). He said that they are/were planning on bringing BTC up to "a level" where BTC is fully regulated and has a stable price to it but I can't really see any "related" articles on Sky and BBC hasn't been regularly reporting about BTC either: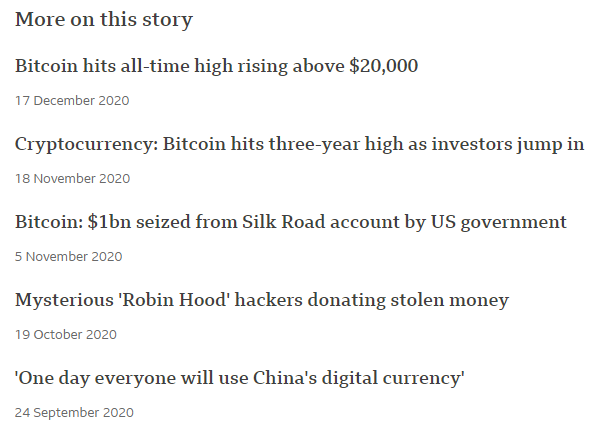 I read articles from a variety of sources, mostly Coindesk, CoinTelegraph, CryptoMarket but Google alerts me to new articles from other sources and I'm always interested to see how and what is reported in the mainstream news. The vibe is completely different, which is something you'll notice when you immerse yourself in the plethora of information but it's good to have a big picture view point.
So in conclusion, mainstream media is only just starting to report on BTC again but I wouldn't call 2 articles a major breakthrough yet. The fact it is being mentioned though is a good thing in my opinion, if only to get more people researching about it and perhaps making their own informed decision.
How is mainstream media reporting crypto where you are? Do you think this is a good thing or a bad thing? Let me know in the comments below!
Take care
Nicky