Bitcoin's lightning network is seen as a play project and very few people are taking it seriously, even as nodes continue to come online, opening up new payment channels and locking liquidity to open up larger transactions and volume it's still a long way off being something the average Bitcoiner users or considers.
As the main chain becomes more expensive and prices out certain transactions, we'll see solutions like the lightning network gain popularity. Dapps like Strike is probably the premier use case so far for lightning but it isn't the only app using it.
I recently came across a mobile game called SaruTobi that tips users in Bitcoin using the lightning network. SaruTobi (which means "monkey fly" in Japanese) uses real Bitcoin to reward users as an in-game reward.
How the game works
It's pretty simple and is one of those flappy bird type basic tap and swipe games.
All you have to do is tap on your screen while the monkey spins around the tree and swipe the screen to fire him off and try and capture as many Bananas, coins or letters as you can as well as cover as much distance as possible.
Bananas allow you to purchase power-ups to send your money further down the course.
While collecting silver and gold coins are instant payouts in satoshis. A silver coin is 10 sat while a gold coin is worth 30 sats.
The game does get repetitive really quickly and surely needs some additional features and level design but it's okay if you're killing time on the pooper.
How the game is monetised
If you're not keen on collecting bananas you can simply buy them using your in-app purchase like any app or you can purchase skins for your character.
The game also has an ad banner on the game screen in the top right corner which I assume brings them additional revenue.
Paying out your tips
You'll need a lightning enabled wallet to run it, be it custodial or non-custodial, I happen to use the custodial Wallet of Satoshi since it's easy and I don't keep much crypto locked in my lightning wallet.
As soon as you've collected a coin in the game you can either leave it in-game or cash it out to your wallet.
Payment is instant and you can withdraw from as little as 1 satoshi.
You can even see proof from my wallet below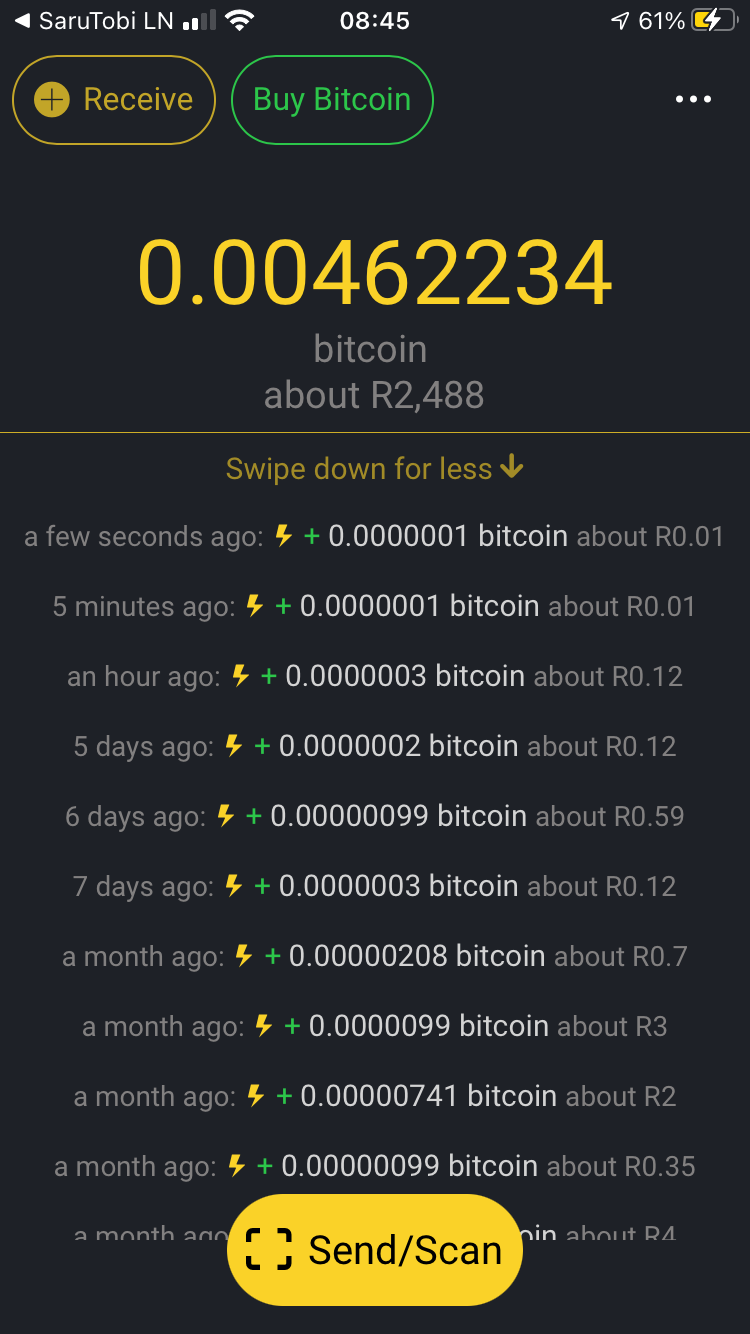 Play Sarutobi for yourself
The game is currently available for both android and iOS but I am not sure it's on the official stores. For iOS users, you're able to get it using test flight while Android users will need to use an APK file.
Mess around with it while you're on the pooper and stack some sats! Let me know what your high score was too!!
Source: