Like many of you, I didn't know about Mirco Strategies before they bought a whole bunch of Bitcoin but went the news broke, I paid close attention to the story. If you don't know the story, the CEO Micheal Saylor decided to turn the $424 million he had in cash on the companies balance sheet into Bitcoin.
The company now sits with around 38,250 bitcoins in cold storage and have secured their balance sheet for the entirety of the companies existence. While many may think this is crazy and complex, and perhaps it is, to me, I see it as a strategic play that could see this company explode in value in the coming years and set off an arms race to follow their lead.
Cash is not a king
We're all pretty aware that fiat is losing its value; while some of us don't see it straight up, most of us can see that the price of goods and services go up each year; that's price inflation. You're not the only one that feels it; we all feel it differently and so too do businesses who have to pay salaries and buy from suppliers.
In an ideal world, the company treasurer would take the capital on their books and invest it in things like real estate, bonds, share buybacks, R&D, acquisitions to try and earn enough on the capital so you don't fall behind inflation.
The worst thing you can do is work so hard for money and save up only to see it slip away. Unofruntelty with bond yields so low, it becomes harder for savers and companies that run profitable businesses to manage their cash.
High margin business
As a software business, Micro Strategies has a high margin business and continues to pull in around $30 million a year to add to their cash position. So all the cash they earn, if they are not ready to reinvest it or picking their moment, sits there and earns nothing.
So essentially, each year, to thank everyone for running a profitable business, you lose money through debasement of the currency.
Micro Strategy, instead of being a debt-based zombie company, is being punished for their prudence and running a business as we all think they should be run profitably. So what they decided was if the system isn't going to reward them for good behaviour, instead of behaving badly, why not find a system that does reward good behaviour, and that was Bitcoin.
Stock price
Microstrategy hasn't done that much over the years, and the stock has been trading sideways for some time now before the lockdowns hit it as hard as many other stocks. The recovery has been swift, and as you can see since the announcement, stock prices have picked up.
Owning their stock is an asset; you can hold it, they pay dividends based on their cash flow, and now they're sitting on a reserve asset that gives them so much bargaining power.
Companies that want Bitcoin exposure can now also buy their stock, and his now just tapped into a whole new generation and sector of investors.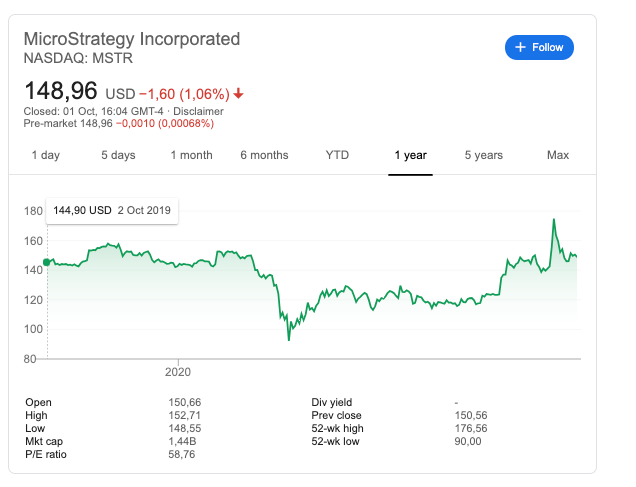 Competitive advantage
As other companies continue to stack up debt or try to secure their cash position with gold, bonds or even stock buybacks, companies that hold Bitcoin will have an advantage over any of those other strategies.
What Micheal and his team have done, the way they acquired Bitcoin without moving the price, gives them massive margin to the downside should Bitcoin drop so they can relax and plenty of upside exposure to go.
They are now only in a stronger position than their debt-funded competitors, but in a stronger position than their cash funded ones too.
If the price rises
If Bitcoins price continues to rise, the profits Micro Strategies will capture on their balance sheet will be insane. They'll be able to use it to leverage capital markets, acquire debt that is collateralized by their position, acquire competitors upstream and downstream and then use those assets to pay off their debt.
It's a brilliant move and something we can all learn from; I personally am doing the same with my business and personal balance sheet, be it in smaller numbers.