So I saw a post yesterday from Hive's favourite mannequin @hivelander which showed how the market cap of Bitcoin is rapidly moving up the charts according to this website which compares assets and companies' evaluations. As you can see, as of today (18th Feb 2021) the market cap of BTC is nearly at $1 Trillion having passed Facebook and Tencent:
An outspoken critic of Bitcoin since its inception has been precious metal dealer and gold "shiller", Peter Schiff. All you have to do is scroll down a little bit on his Twitter profile and you'll see what I mean! The debates between him and BTC maximalists such as Max Keiser often offer up plenty of entertainment, one of the spats from a gold vs Bitcoin debate in 2017 was quite memorable in the Bitcoin community – the point where Max Kaiser loses it trying to explain to Peter is at 28:48:
Change In The Air
However, I do believe that we're now seeing awareness of Bitcoin drastically increase amongst the general population as my friends and family are now asking me about it and sharing links to articles they found about it. Most of the time it's from mainstream media which has its own agenda as described eloquently by raj808 in his latest outburst. This awareness of people asking questions and more importantly, getting involved and buying it is the first step that I hope many of my friends and family will make.
Looking at the value of 1 Bitcoin (currently a breathtaking $51,500), they understandably want a piece of the action but just how far can Bitcoin's marketcap go? One article from CNBC points to even more euphoria of $1 million per Bitcoin at some point in the 2030s which would basically dwarf the market cap of gold! A lot are tipping 6 figures by the end of the year as a so-called "wall of money" is entering in 2021 as described by RealVision CEO Raoul Pal in a recent Rich-Dad Podcast.
There's so many big companies with deep pockets now getting involved with BTC and the richest man in the world, Elon Musk, has allocated $1.5 billion worth of Tesla's balance sheet, which has seemingly woken up the world to crypto. Now BlackRock's CEO is saying they are "dabbling in crypto" according to this tweet – they only have a few trillion dollars on their balance sheet apparently, imagine 1% of that going to BTC! Despite that, Peter Schiff is still totally dismissing it, saying it will go to 0 countless times over the last 12 years. Even his own son on Twitter is in on Bitcoin!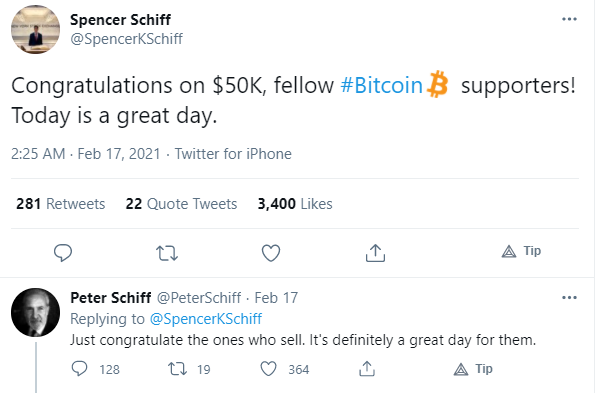 So, with all this, do you believe it's a question of Schiff not when BTC overtakes gold's market cap or is BTC on an unstoppable mission? Let me know your thoughts in the comments below!
Stack it easy!
Nicky