Loans, Glorious Loans
I thought I'd try taking a loan out against my crypto with Celsius as I've been using their services for 6 months now and the thought of selling my crypto is a hard pill to swallow! The principle of taking a loan out against your crypto was completely unknown to me so had to do some extensive studying on it but when I saw the page below on the Celsius website, I was really intrigued as to how this crypto loans thing would work and the cogs started turning!
There is a fully fledged FAQ page along with video tutorials on Celsius' Loan page here along with the YouTube channel and the weekly Ask Machinsky Anything for your reference.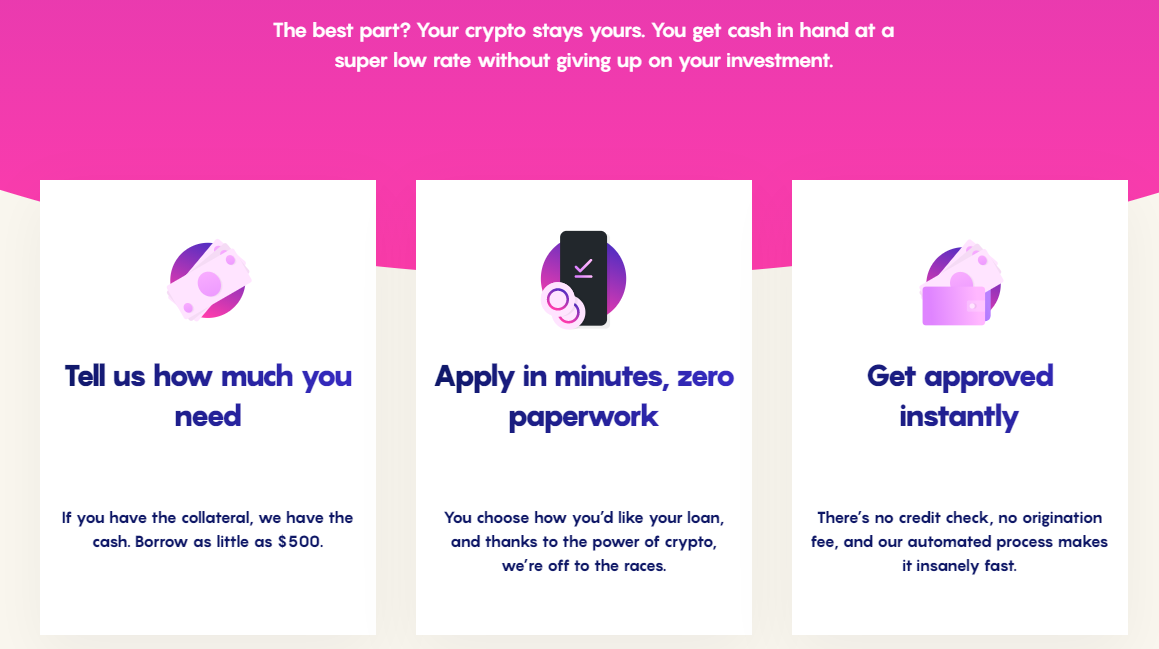 How Crypto Loans Work
The UK HMRC considers crypto as an asset, which means that you can use it to borrow cash against rather than selling it and getting hit with capital gains tax. Depending on how much crypto you have, you can borrow up to a certain percentage of the fiat value of what you hold. With Celsius UK, this percentage is 25% at time of writing with a 0% interest on the loan (yes, 0!).
For example, if you have £10,000 worth of Bitcoin, you can borrow up to £2,500 in stablecoins (coins that have a value pegged to a fiat currency) and pay that back over a certain time frame up to a maximum of 3 years at the moment. This means that Celsius locks up your £10,000 worth of Bitcoin for the length of time you specify when you apply for the loan.
The Bitcoin that is locked up is called "collateral" and you will see this term used a lot in the lending/borrowing space. Therefore the loan you are applying for is a "collateralised loan" as it is backed up by your own asset, which is a type of insurance for the lending company giving out loans.
Receiving Loans
After speaking with the Loans team at Celsius, you can receive the loan in fiat but the minimum amount is $10,000 which would then be subject to fees from your bank when converting from $ to £ and might take a few days to process (although you could try your luck with Revolut, not sure on that one). The other option is receiving the loan in your Celsius wallet in their offering of stablecoins (TUSD, GUSD, PAX, USDC, USDT or DAI) with minimum of $500. The funny thing is, you actually earn interest on these stablecoins once you receive them in the app at the current rate of 10.51%!
There's pros and cons – if you need to pay something in fiat from your loan then you will need a minimum of $40,000 worth of crypto to use as collateral to get that minimum $10,000 loan but no taxable events. If you don't need that much then the stablecoins might be a better option as you can borrow less but then you will need to be wary of taxable events if you trade into other crypto.
Paying Back Loans
For stablecoins, from what I gather, you need to make sure you have enough of the stablecoin you borrowed and leave it in the app, ready for the end of the loan term – there are full instructions on this here but looks like the process is already automated in the app.
For USD repayments, you will need to pay back the amount you borrowed by sending it to the Celsius bank account and an email to loans@celsius.network but full information can be found here.
Is A Crypto Loan For You?
Obviously, it's totally up to you if you decide to sell your crypto or take a loan against it – I'm not a financial advisor and this isn't financial advice! If you are confident you can pay back your loan in the time frame and need the cash quickly for whatever reason then it seems like it's a good option. If not, then probably not – you know your situation better than anyone else!
There is of course risk involved with "not your keys, not your crypto" but I've been following Celsius long enough and I trust them – the AMA each week really help with transparency and improved my confidence in using their services. I haven't had any problems with their customer service, they were helpful and responsive to all my questions and approved my loan request quickly.
One thing to bear in mind, once you get your loan, the amount of crypto you have locked up won't earn interest – this is explained here. However, let's say that you have £11,000 of BTC and borrow £2,500. £10k is locked up but you still have £1k of BTC which will earn you interest in Celsius.
Conclusion
Taking crypto loans out is a risky game if you don't know what you are doing but they can be a very helpful way to get access to cash quickly if you need to without having to sell your assets, particularly if you are holding assets for the long term. In any case, I strongly recommend that you read all about this in your own time, make sure you fully understand what is involved, read the terms and conditions, understand the risks involved, watch the AMAs, ask questions to the customer service team at loans@celsius.network and make your own mind up.
If you're interested in Celsius and not set up an account yet, feel free to use my referral link (details at the bottom). If loans aren't your thing then you can always deposit some stablecoins and earn 10.5% interest – full list here.
Has anyone else taken out a crypto loan yet? What are your thoughts on it all? Let me know in the comments below!
Take it easy
Nicky
---
Sign up with the invite link
Go to promo codes – type in NEW40 (new sign-up only)
Deposit $200 or more worth of crypto in your first transaction
You get $70 of DAI, I get $30 of DAI