Bitcoin Starter Guide For South Africa
So you're thinking about getting into this whole "Bitcoin" thing, but you don't know where to start. You've heard friends mention it in passing, or you've seen the media frenzy on tv or social media. Yet, no one has actually taken the time to sit you down and explain how it all works and why people are so excited about this new technology.
Having gone through the orange pill process ourselves, we realise the depth and breadth of the Bitcoin rabbit hole. It's easy to get swallowed up by the waves of tweets, articles and videos only to feel drowned in information.
We created The Bitcoin Manual to be your pool noodle, polyotter or water wings and help keep you afloat as you take your first dip into Bitcoin.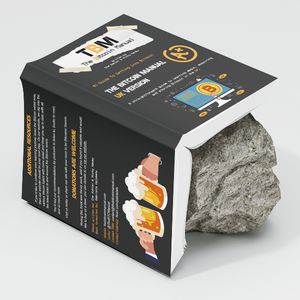 In this ebook, we cover a range of topics surrounding Bitcoin and its ever-expanding ecosystem. To help you get a feel for what is expected of you, should you want to store some of your purchasing power in the Bitcoin network.
We tackle topics like:
What is Bitcoin?
What is Money?

How Did Bitcoin Begin?

How Does Bitcoin Work?

Proof of Work

Bitcoin Economics

What Is Bitcoin Mining?

What Are Bitcoin Nodes?
Buying & selling Bitcoin in South Africa
Where Can I Buy Bitcoin?

How Do I Buy Bitcoin?

How Do I Withdraw Bitcoin From Exchanges?

How Do I Send Bitcoin To Exchanges?

How Do I Sell Bitcoin?

What Are The Risks Of Keeping Bitcoin On An Exchange?

Do I Need To Pay Taxes With Bitcoin In The South Africa?

Bonus: Gift for first-time Bitcoiners in the

South Africa
Staying secure with Bitcoin
How Can You Use Exchanges Securely?

What Are Some Safe Online Practices?

How Secure Are Your Passwords?

How Can I Store Bitcoin Securely Offline?

Beware Of Bitcoin Scams
Bitcoin terminology
What Are All These Weird Phrases Around Bitcoin?

What Are The Main Words I Need To Know?
Keeping track of your Bitcoin
What Do I Need To Know To Keep Track Of My Bitcoin?

What Are The Best Tools To Keep Track Of My Bitcoin?
Developments on the second layer
What Is The Lightning Network?

What Is The Liquid Network?
Have any Bitcoin-related questions?
Still not feeling comfortable with Bitcoin? Maybe you're embarrassed to ask what you feel would be a dumb question? It's okay; we're all learning. Send it through to us and we'll be happy to point you in the right direction
If you thought this information was helpful why not share it on your favourite social media network and encourage others to learn more about Bitcoin
The latest news from our blog
Articles
In the crypto world, it's all about moving fast and breaking things, and break they do; it seems like every month, millions of dollars worth
Read More »
Articles
Ledger wallets are arguably one of the most popular hardware wallets/signing devices on the market; the brand recognition and trust it has built over the
Read More »
Articles
Online file sharing is nothing new; it is basically what the internet is designed to do, democratising access to information through a globally accessible network.
Read More »