We realise that Bitcoin is a complex topic that requires hours of dedication to learn about, and you can never stop learning. Like Bitcoin, as we continue to add to our website, these layers create a rabbit hole, making it harder for people to find their way around. 
In an attempt to ensure you don't lose your way, we've curated all our top links for you here so you can pick the topic you want to learn about and take it from there.
So if you're ready to find out how deep the rabbit hole goes, we're prepared to guide you down the path that you find most interesting.
Start by browsing the links below and picking your path to Bitcoin education. 
About The Bitcoin Manual (TBM)
Articles
The bitcoin mining business is not a get-rich-quick scheme that involves plugging in a magic money printer machine; it's a worldwide competition to provide security
Read More »
Articles
Wrapped Bitcoin (wBTC) is a bitcoin voucher or promissory note that can be generated by submitting bitcoin to a custodian or smart contract bridge. Once
Read More »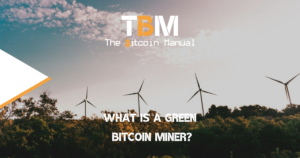 Articles
Bitcoin mining requires increasing amounts of energy to power the computers that verify and record secured transactions on the time chain. Miners are on a
Read More »